B2B salespeople need a variety of platforms to assist in prospect research, lead generation and outreach — and the more verticals you operate in, the more possibilities you likely need. The following platforms may not be your first thought for prospecting (like LinkedIn may be), but each has unique characteristics and community traits. They're all great B2B professional networking platforms that help you connect with industry decision-makers and keep up with trending topics, news, and events your industrial targets care about.
Facebook
Facebook is not as professionally driven as LinkedIn, or even Twitter, but it does contain some beneficial applications that you should leverage regardless of industry. From photos and infographics to Groups, discussion boards and trending topics, Facebook is great for building your reputation and digital visibility.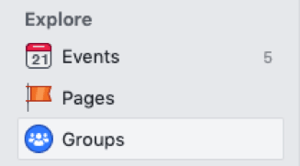 Find the Facebook Groups icon on the left toolbar under "Explore," or in the "More" area within the mobile App. You can filter by category such as "Business" or search to find relevant groups that will help you connect with other professionals in your industry, discuss topics of interest, and share helpful links, news, and material.
Facebook Live is a live streaming feature that allows companies to connect in real time with their audience by hosting Q&A sessions, presenting how-to videos, and receiving feedback and questions all in real time. While Facebook Live is most popular from mobile devices, you can also Broadcast to Facebook Live from your Mac or PC.
Twitter
Surprisingly, Twitter is more professionally based than you may think. Twitter is a fantastic network for building relationships with people in a variety of capacities. For example, if there's a specific hashtag for a conference you're attending, use it in your tweets to see who else is engaging and meet up with them during lunch or breaks.
You can also connect with other professionals around the world on a daily basis by following trending hashtags and topics within your industry. Also, be sure to follow industry leaders who likely tweet and retweet noteworthy topics and events.
Twitter is also known for its fast-paced urgency to uncover current trends and topics as they arise by the minute across the world. That being said, in order to network and contribute to conversations within your network, you should regularly engage and post relevant and useful tweets on your personal and company accounts.
Similar to Facebook Live, Twitter also has a live streaming feature.
Meetup
While many of these online platforms are focused on connecting with other professionals online, Meetup is unique in that it focuses on connecting people initially online to later meet in person. While digital networking is convenient and instantaneous, sometimes it's much more beneficial to connect with other professionals in person.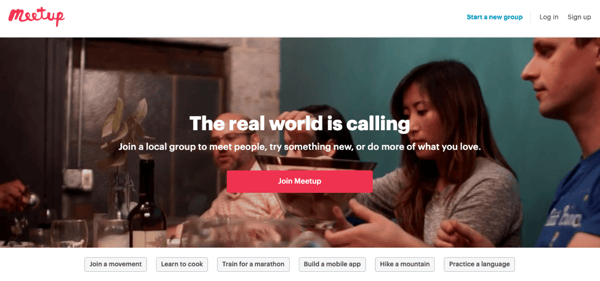 You can specify the meetings you are interested in by topic, location, and date. If there's nothing happening around you, create your own event and invite other professionals by email or Facebook, or share a link to other networking platforms. Once you've gathered a group of like-minded professionals, you might find it beneficial to have regular meetings with varying topics to further build your network and expand your industry-specific knowledge.
Quora
Quora is a knowledge-sharing website that allows anyone to ask and answer questions posted to the site. People can then engage with (like, comment, share, etc.) and share the post to other social media platforms and via email. In addition to specific questions, you can search for general topics like "manufacturing" or "manufacturing in the USA" or more specific topics like "equipment manufacturing" or "paper equipment manufacturers in the Midwest" and see what others are discussing. This is a fantastic way to see what your prospects and customers are thinking about and the challenges they're facing and provides an opportunity for you to be helpful in answering their questions.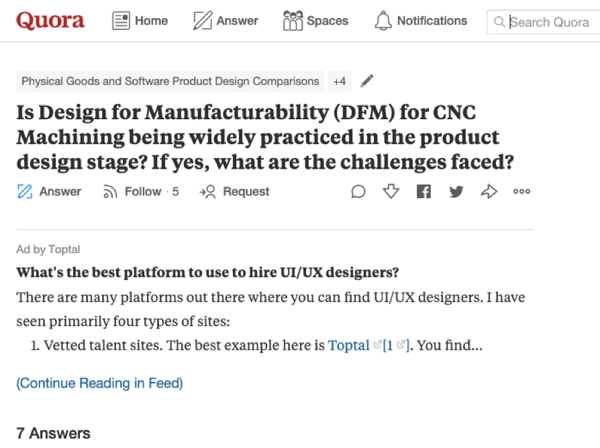 Quora is a great way to have lengthy, in-depth conversations with other thought leaders about niche topics. By viewing someone's personal profile, you can see what other questions they've asked or responses they've given to questions, plus what other topics a person is knowledgeable about.
Slack
Wait…what?! Slack is more than a messenger app to communicate and collaborate with coworkers and business partners? Oh, yes. There are communities of like-minded professionals that discuss a huge variety of subjects.
The main difference with Slack is that it's a messenger-based mobile or desktop app, not browser-based. So, each community has multiple public threads with the option of sending direct messages to anyone in that community. The challenge with that is you may get distracted by instant messages and notifications (which you can adjust to minimize the distraction).
Want to see what these Slack communities cover? Simply Google a topic that interests you plus "Slack community." We did this for inbound marketing, so the search was "inbound marketing + Slack community." For example, if you're looking to sell in a way relevant to industrial buyers today, you could check out the Inbound Sales Slack Community.
Wistia
While not exactly a networking community in itself, video is one of the most valuable content opportunities underutilized by companies, and is exploding as the leading medium in content marketing. We simply couldn't leave this tool off the list because it's so powerful for networking and communicating with prospects and existing customers. Video content is crucial in industries often labeled as complex — manufacturing and insurance, for example — that help attract and convert leads. Video is a great opportunity to attract prospects (show off product features or walk through a process) as well as convert leads by featuring company leadership or customer testimonials.
Wistia offers business-specific video hosting, marketing tools, and analytics. Their most popular software tool is called Soapbox, which makes it easy for anyone (seriously, we proved it) to record professional-looking videos that companies can affordably create, share, and track. From thoughtful sales videos for prospects to something quick to keep connected to a current customer, Soapbox allows you to present information and receive feedback without asking a viewer to make a specified time commitment.
As you likely know, LinkedIn is the most popular professional networking platform. Yet, other options have specific strengths that approach networking in different and meaningful ways. Some are better for making professional connections locally or within unique niches. It's worth your time to go beyond LinkedIn and explore your possibilities.